Page 4 of 5
COBIT Framework Navigation
As mentioned in the outset, COBIT 4.1 contains 34 processes, organized in four domains. Each process is covered in four sections, combining to give a complete picture of how to control, manage and measure the process. The four sections are:


Process descriptions
Control objectives
Management guidelines
Maturity model for the process
At the end, by applying these four sections for every process in sequential manner, it has been stated:
(1) What the process owner needs to do >> in a process description

(2) How the process owner is going to do it >> by using control objectives

(3) What the process needs from others >> by determining input

(3) What the process owner needs to deliver >> identifying output

(3) What need to be delegated and to whom >> by creating a RACI chart

(3) How the process and its goals should be measured >> by stating goals & metrics

(4) How the process can be improved >> by applying a maturity model
In the following I want to give you an overview of how each of the four sections is organized and what is contained in them.
Section 1 – Process descriptions
This section is organized as follows: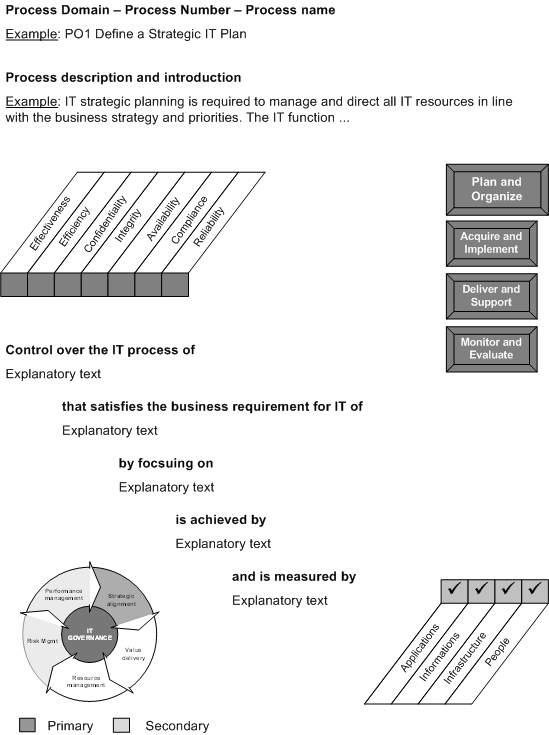 Section 2 – Control Objectives
This section starts with the process domain and –name. It is then followed by a number of controls. Each control has its own descriptive text.
<Process Domain – Process Number – Process name>
Example: PO1 Define a Strategic IT Plan
PO1.1 IT Value Management
Work with the business to ensure that the enterprise portfolio of IT-enabled investments contains programs that have solid business cases. Recognize that …
PO1.2 Business IT Alignment
PO1.3 Assessment of Current Capability and Performance
PO1.4 IT Strategic Plan
PO1.5 IT Tactical Plans
PO1.6 IT Portfolio Management
Section 3 – Management Guidelines
Part of the management guidelines section are input and output tables, a RACI chart and goals and metric for IT, process and activities.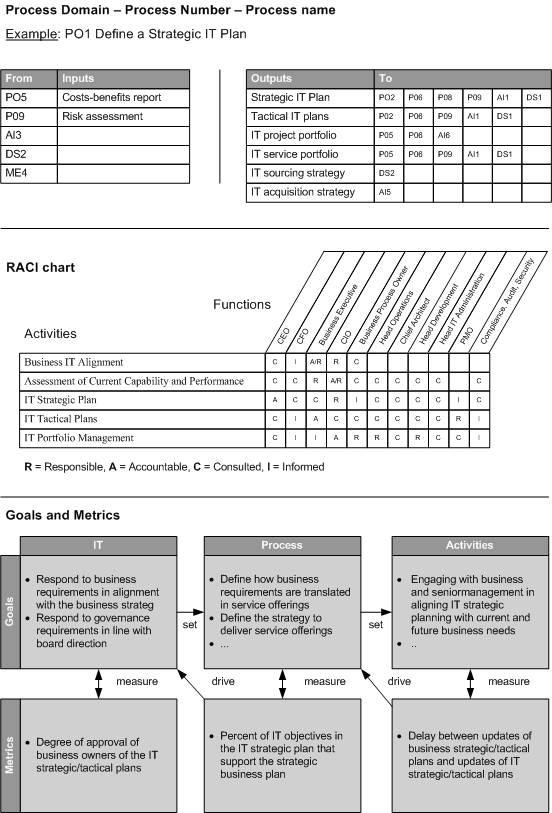 Section 4 - Maturity model for the process
This section contains the maturity scales from 0-5 showing how a process can evolve from a non-existent capability to an optimized capability
<Process Domain – Process Number – Process name>
Example: PO1 Define a Strategic IT Plan
0 Non-existent when
IT strategic planning is not performed. There is no management awareness that IT strategic planning is needed to support business goals.
1 Initial/ Ad Hoc when
2 Repeatable but Intuitive when
3 Defined when
4 Managed and Measurable when
5 Optimized when