Written by Administrator
Sunday, 12 August 2007 23:00
In order to get access to restricted content here at Piir-Stuff you have to subscribe. Here's how it goes:
Click on "Create an account" in the Login form on the left bottom of the page
Fil in your credentials - then click "Register"
Note: E-Mail must be a valid address as a confirmation link is sent there. The confirmation link is needed to activate your account.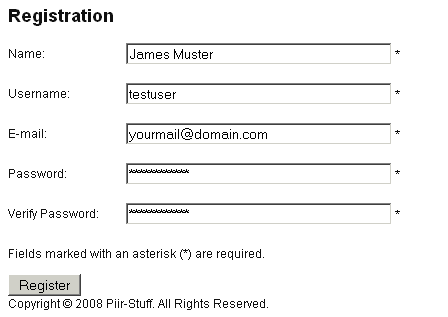 After clicking the "Register" button, the following message shows up:



You will receive a activation and a confirmation E-Mail. Activate your account by clicking on the activation link as outlined above. Your account is now enabled.
Login with your credentials
Click on a link with restricted content - you should now have access
After login the "User Menu" appears on the left navigation side. You can adjust your settings there
Done!

Last Updated on Thursday, 23 September 2010 11:32